Another year has come to an end, and a new year has begun. Usually these posts are written by the end of December, or at the latest, early January, but I figured that since this is my blog, I could post it whenever I want.
2019 was a pretty good year – let's look at it month by month to see what went down!
January 2019
January is typically a good month – it is the month of my birth after all. Now that it's been a year since January 2019, it's kind of hard to remember what all happened. Which is why I looked back at photos and videos from that month. My beautiful wife, Abbie R Powers, continued working on her new studio in our backyard (I helped a little bit), and she consistently amazed me with her ingenuity and dedication to building this structure.
Judging by my photos, I bought more Dungeons & Dragons miniatures (most of which are still unpainted as of this post, but that owlbear made quite the entrance into the campaign, let me tell you), and attended a few Colorado Eagles hockey games. As for movies, Abbie and I continued the tradition of going to see a movie on or around my birthday. We saw Aquaman, and while not the greatest superhero movie in the world, it was definitely entertaining. Not bad for the first month of the year!
---
February 2019
February kicked off with checking out my buddy Josh and his friends in their "supergroup" Green Dream to celebrate the 25th anniversary of the release of Green Day's "Dookie." They played the album in its entirety at Surfside in Fort Collins on February 1st, and it was a ton of fun to relive that album (even if I was only 9 years old when it was originally released).
The music continued the next week at Downtown Artery, with Chieftain and Green Druid bringing their stony, sludgy doom rock to the stage. As always, Chieftain put on a great show, and it's always memorable to see those fellas play. Green Druid was stellar as well, but I didn't make it all the way through their set, since they played well past midnight.
February also marked the annual trip of my mother and mother-in-law to Colorado. I remember it being as fun as always, and while I have photos, I'm not sure my mom would want me to post them online, so as to save her some embarrassment. (Let's just say that there was singing and dancing along with records from the 60s and 70s…)
February also saw the continuation of our Dungeons & Dragons group, for which I built this tabletop game board in order to create space for the battlemat and give everyone room for their papers, dice, etc!
---
March 2019
March started out fairly quietly. Work continued much as it had for the first two months of the year. As for movies, we saw the release of Captain Marvel, which I thoroughly enjoyed.
The end of March brought the highlight of the month, with Abbie and I taking a trip to San Diego and then across the border into Tijuana. We rented a little apartment right next to the beach and enjoyed a few days of sun, sand, good food, and more. We took an adventure south of Tijuana towards Ensenada and up the Guadalupe Valley into wine country. It was a beautiful countryside to see, and at the end of the day, we caught the local bus back to Ensenada (it literally picked us up on the side of the road as we were walking), and then we took a coach bus back to Tijuana! One evening, we witnessed a guy practicing his bo staff skills on the beach.
---
April 2019
April brought us back into the States and back to San Diego. We were fortunate enough to be able to stay at a friend's house in Carlsbad for a few days, and we were able to have dinner with our good friend Sahan. We then ventured back to San Diego, stayed a night at a hotel on the boardwalk, and then came home!
I made the trek back to Nebraska the weekend of the 13th for the Husker spring game. It's always fun to be in Memorial Stadium, even if it's just for the spring game. The Huskers may not have had the season I'd hoped they had, but I'll always cheer for The Big Red!
Of course, one of the highlights of April was the release of Avengers: Endgame. There was so much hype surrounding this movie that I wasn't sure what to think going into it. I knew I was excited for it, especially after Infinity War in 2018. Needless to say, Endgame will be one of those movies that I will always remember where I first saw it and who I saw it with on opening night.
April closed with another FoCoMX in Fort Collins, the annual music festival celebrating local bands. With great sets from I Am The Owl, Triton, Autumn Burn, and more, it was a great way to end the month!
---
May 2019
May always begins with two of my favorite days of the year – Free Comic Book Day and Star Wars Day (May the Fourth Be With You). In 2019, they happened to fall on the same day, and I celebrated by having breakfast with friends and then venturing to the local comic book shops around Fort Collins and Loveland. We started with Gryphon Games & Comics, where I saw my local comic creator friends, including Ron Fortier, Todd Jones, Abrahm Akin, Ben Mikkelsen, Jon Bonjour, and many others. I'd say I got a pretty good haul of both free and purchased books that day!
Here's an obligatory picture of my dog, Bear, yawning. Already tired, and the year isn't even half over!
May ended with a trip to the three days of the newly named Denver Pop Culture Con at the Colorado Convention Center. I was fortunate enough to be able to help my friend Dustin with his photography during the show, which means I had a Media pass and got fast access to pretty much every part of the show! This was my second time at the Denver con, and after three days of panels, the show floor, and all the people, my nerd brain was overstimulated and ready for a break! But the show was awesome, nonetheless.
---
June 2019
June saw another return to Nebraska, with my annual trip to my hometown of Holdrege for the Swedish Days festival. It's always fun to go back for a few days to catch up with high school friends and to see family. This year, my sister, my brother-in-law, and my niece and nephew were all there from Virginia, so we were able to spend some quality time together. I'm sure my mom was very happy to have us there!
On the music front, I was able to see one band I've always wanted to see – Mastodon. They, along with Every Time I Die and Coheed and Cambria (one of my personal favorites) played The Fillmore on June 19th. Mastodon played their seminal album, Crack the Skye, in its entirety to celebrate the album's 10th anniversary. Coheed played a great set, with songs from nearly every album they've released (they of coursed encored with "Welcome Home"). We missed Every Time I Die due to Denver traffic, but I wasn't too torn up about that.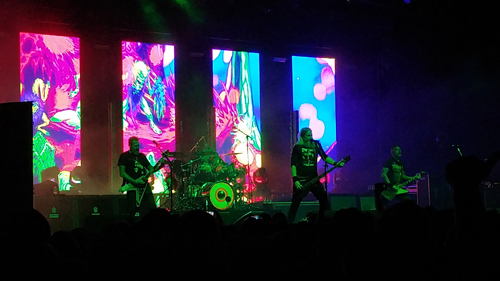 ---
July 2019
July began with another movie from Marvel Studios (well, Marvel Studios and Sony Pictures – who else is glad they worked everything out, amirite?) with Spider-Man: Far From Home. Tom Holland did another outstanding job as your friendly neighborhood webslinger, and while I still hold Homecoming a bit higher in my personal ratings, Far From Home is still a great movie.
July 5th brought one of the more impressive thunderstorms that I can remember in our nine years in Loveland. We stayed under the shelter of our porch and watched the rain, wind, and hail (small and short-lived, thank goodness).
In music, Abbie and I went to see one of my personal favorites – and one of the nicest guys you'll ever meet – Shawn James. He played a set at Hodi's Half Note in Fort Collins on the 20th, and with some new band members, put on a great show. One of the most unique voices you'll hear, I guarantee you. Look him up!
July ended with the annual Orange Party at work. It was held in the parking lot of our new building in Fort Collins, and the big surprise of the night was a show by The Flobots! Somehow, I ended up right in front of the stage, and it was definitely a moment I won't soon forget.
---
August 2019
August began with my in-laws coming to Colorado for a mountain adventure. Abbie and I headed to Glenwood Springs with them, where we then hiked the trail to Hanging Lake. It's definitely one the hardest hikes I've done in my life, but it was well worth it. Just look at that view!
We then made our way to the Grand Mesa, and did some hiking in the rain. After that, the in-laws headed off on their own adventure, a jeep ride through the mountains, so Abbie and I went to the Black Canyon of the Gunnison National Park. It has to be one of the most impressive spots I've been to in my life.
Abbie and I celebrated 12 years of marriage on August 18th, and how did we celebrate, you ask? Why, we spent the entire weekend at Fort Collins Comic Con! This was my first con as a show vendor, and I had a great time. I saw some familiar faces and met some new ones, and was able to sell some comic books and a few of my novels over the course of the two days. I'm looking forward to doing the show again in 2020!
---
September 2019
September began with a trip to Breckenridge with some friends, where we relaxed, played board games, and made tasty food. We also ventured in Breckenridge one evening, and for my first time in the mountain town, I was impressed. Would definitely like to go back again!
Later in the month, I attended the CSU game courtesy of the Madwire box suite (gotta love those perks). I don't care where I'm watching it, I always love college football. The Rams ended up losing to Toledo, but it was a great time, nonetheless.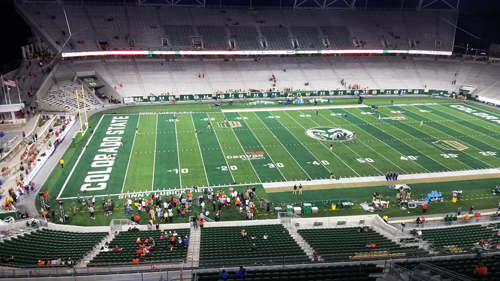 September ended with another show at the Downtown Artery (the last I would ever attend there, as the music venue closed down at the end of the year). This time I went to see my buddies in I Am The Owl as they opened for In The Whale. Another rocking show by two great bands, even if In The Whale had about 15 minutes of technical difficulties to start their set.
---
October 2019
October began with the garbage disposal breaking, which of course led Abbie to decide that it was time to gut and renovate our kitchen. Now, our house was built in 1896, and even though there have been updates throughout the years, it still has its quirks of being a house of that age. Again, Abbie took on the majority of the work, and I chipped in when and where I could. After demo was complete, we took a trip to Ikea with our friend's cargo van and picked up what would become our new kitchen!
I also took part in the annual Halloween Comic Fest at Gryphon Games & Comics on the 26th. It was only a few hours on a Saturday morning, but some friends stopped by and I met some new people, while selling some novels and comic books.
For movies, we saw Joker in theaters, and it was definitely one of the best films I saw all year. I won't be surprised if and when Joaquin Phoenix, Todd Philips, and others win awards for the movie.
---
November 2019
The kitchen renovations continued into November, with things coming together in terms of finishing off certain aspects and getting new appliances installed.
We continued our D&D campaign, as we had been throughout the year, launching into a new module from the Essentials Kit, The Dragon of Icespire Peak. I have a lot of fun DM'ing for my group of friends, and I hope they have fun, too.
The highlights of November included our annual Alpha Thanksgiving, which had the theme of 80s Prom. Everyone came dressed in their 80s best, and my buddy Aaron and I had fun coming up with the "Most Likely To" awards for the party.
The night after Alpha Thanksgiving was something I'd been looking forward to for months – the premiere of the Jay and Silent Bob Reboot at The Lyric in Fort Collins. On top of the movie, Jay and Silent Bob – Jason Mewes and Kevin Smith themselves – were in attendance! They did some Q&A before and after the movie, and it was definitely a memorable experience.
After getting two feet of snow a few days before Thanksgiving, I was able to dig myself out and host my dad and step-mom for Thanksgiving dinner. We didn't have an oven yet, so I made ham in the crock pot!
The month was capped off with another great show, this time at The Oriental Theater. Power Trip and High on Fire played an amazing show, as we celebrated my buddy Cody's birthday from our reserved table near the stage. Let me tell you – it's worth it to pay a little extra for those seats so that you can sit down while watching the bands play!
---
December 2019
December seemed to fly by, as it always does. We had my team from work over for our annual holiday party, which is always a great time. We worked on the kitchen a little more, putting the finishing touches on here and there.
On the 19th, one event that I'd waited for all year (and even longer) finally arrived – the premiere of Star Wars: Rise of Skywalker! To say I love Star Wars is an understatement. You can read my previous post for my thoughts on the saga. I felt that the final episode in the Skywalker saga was well done. I definitely have a soft spot for Star Wars, and tend to love most things about the movies, even while others take issue with them for various reasons. To each their own, I guess!
We traveled to Nebraska for the week of Christmas, taking the Bear boy with us to see friends and family. It was a great time of celebrating, and we had good weather, until the trip back to Colorado on Sunday. Ice and snow made for a long, slow trek. What should've taken us about six hours ended up taking just over 12, with several stops along the way. Never have I been so glad to get home and sleep in my own bed!
Well, if you made it through all 12 months and every recap, then I hope you've enjoyed yourself somewhat. I also hope that you have a happy and healthy 2020, and that you find something new to experience and to enjoy. May you be surrounded by those whom you love and who love you, and that you achieve all that you set out to accomplish.
Until next time, keep doing great things!